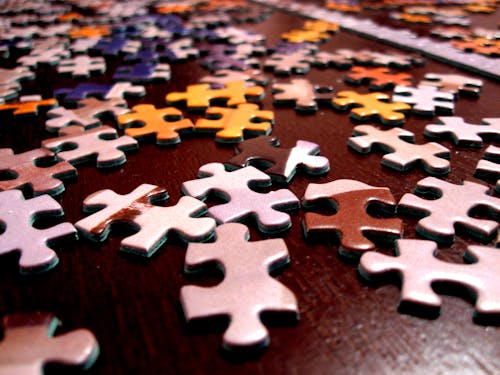 Image Source: Pexels‍
As a lover of puzzles, I have always found them to be a great way to unwind and relax, especially after a long day. There is something satisfying about completing a puzzle, and when that puzzle is a custom puzzle made from your favorite photo, the feeling is even more special. In this article, I will be sharing with you the benefits of custom puzzles, how to make one from a photo, choosing the right photo, as well as a few tips for creating a high-quality puzzle. So, let's dive in!
Benefits of Custom Jigsaw Puzzles
Custom jigsaw puzzles have a ton of benefits, aside from being extremely fun! Firstly, they are a great way to preserve memories. That's right! It turns out that piecing together those colorful pieces can improve your cognition and supercharge your visual-spatial reasoning skills. Talk about a win-win! By focusing your concentration on joining the puzzle pieces, you're not only creating a stunning picture from your photo but also enhancing your short-term memory and becoming a problem-solving wizard.
Additionally, custom puzzles are an excellent way to spend quality time with loved ones. You can work on the puzzle together, helping each other find the right pieces and creating a fun bonding experience. You can create a puzzle from a photo of your family, friends, or pets, and relive those happy times with the people that made it so special.
How to Make a Puzzle from a Photo
Making a puzzle from a photo is easier than you might think. First, you need to choose the photo you want to use. Next, you will need to upload the photo to a custom puzzle-making website. Pix on Puzzles makes this extremely easy for you. When you go to their puzzle page, you will be presented with a large button labeled "Upload Here." Just click there and you're on your way! Once you have made these selections, you will add the puzzle to your cart and make another one or start the checkout process.
When the puzzle arrives, it will be in pieces, and you will need to put it together. Start by finding the edge pieces and working your way inwards. It's a good idea to work on the puzzle on a flat surface, so the pieces don't move around. Once you have completed the puzzle, you can frame it or take it apart and store it in the custom metal your custom puzzle came packaged in.
Choosing the Right Photo for Your Custom Puzzle
Choosing the right photo for your custom puzzle is essential. You want to choose a photo that is high-quality and has good lighting. Additionally, you want to choose a photo that has a clear subject and is not too busy. If the photo is too busy, it can be challenging to complete the puzzle. Finally, you want to choose a photo that has sentimental value to you or the person you are giving the puzzle to.
Tips for Creating a High-Quality Custom Puzzle
Creating a high-quality custom puzzle requires attention to detail and patience. Here are some tips to help you create the best puzzle possible:
Choose a large, high-quality photo.
Choose a photo that has plenty of detail (large areas of one color can be difficult to complete).
Choose a puzzle size that is appropriate for your photo and skill level.
Why a Custom Puzzle from a Photo is a Perfect Gift
A custom puzzle made from a photo is a perfect gift for many reasons. Firstly, it is a unique gift that is guaranteed to be appreciated. Secondly, it is a thoughtful gift that shows you put time and effort into creating something special. Finally, it is a gift that can be enjoyed over and over again. The person you give the puzzle to can work on it alone or with loved ones, creating a fun and memorable experience.
In conclusion, custom puzzles made from photos are a great way to preserve memories, spend quality time with loved ones, and challenge your brain. When creating a custom puzzle, it's essential to choose the right photo and follow the tips for creating a high-quality puzzle. There are many companies that offer custom puzzles, so choose the one that best suits your needs. Finally, a custom puzzle made from a photo is a perfect gift that is sure to be appreciated and enjoyed.